Day 5 - stripping walls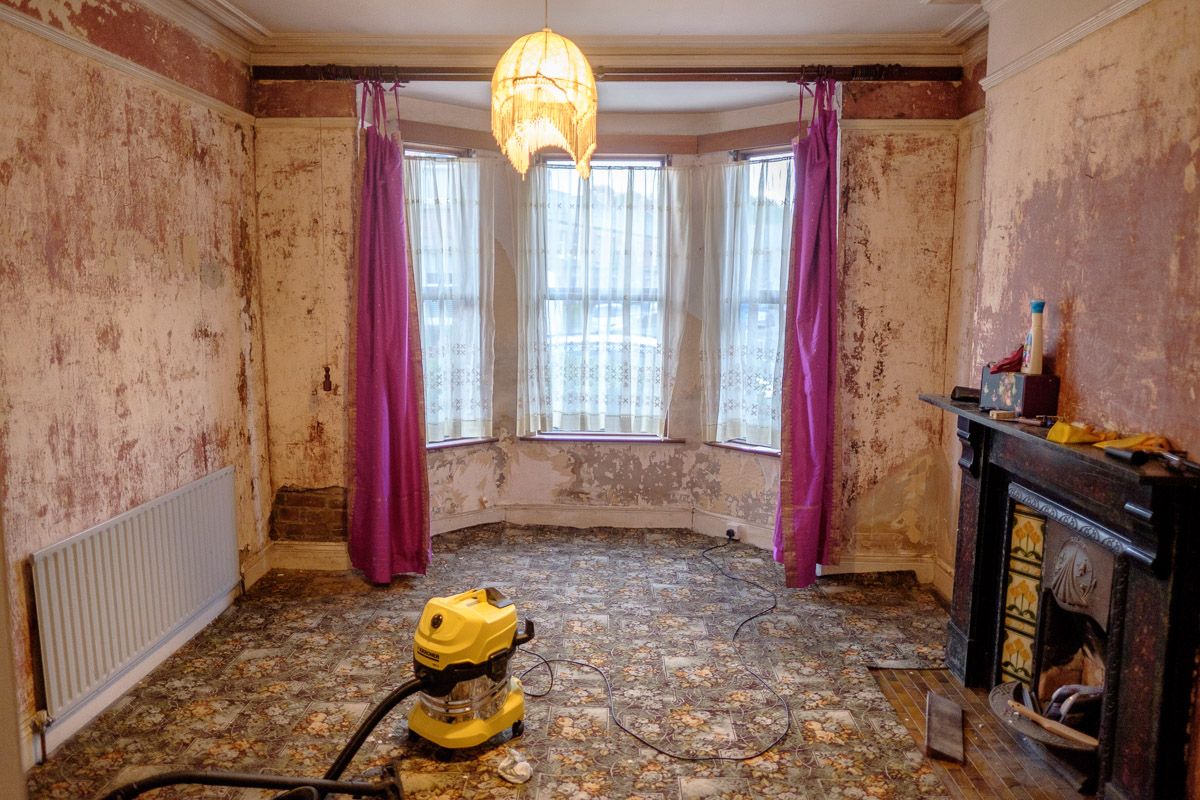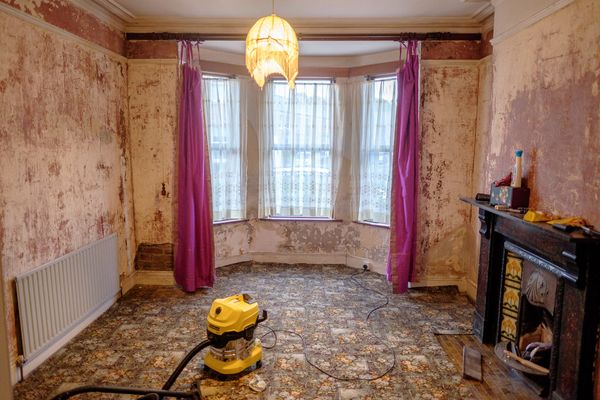 This weekend we got our first proper 'work' done to the house. All low-level DIY, as we are still very much finding our feet, getting to know the house, and figuring out what we need to do with our very limited budget.
We let the boys tear around the still very empty house while Mehdi brought me on a tour, giving me a potted version of the hugely valuable advice he'd been given by Joseph Little and Emma Sides. It was a liberating experience – I felt like I'd landed on solid ground for the first time. With their guidance, I could see how I could make a start on the house without damaging the building. There's a tonne of things I can do – and will enjoy doing - like stripping the layers of damp wallpaper and polystyrene (used for insulation) off the walls to let them breathe. I know this doesn't sound like much, in a house that the professionals have told us needs north of €160k to put right, but it's something I could get dug into. And I did.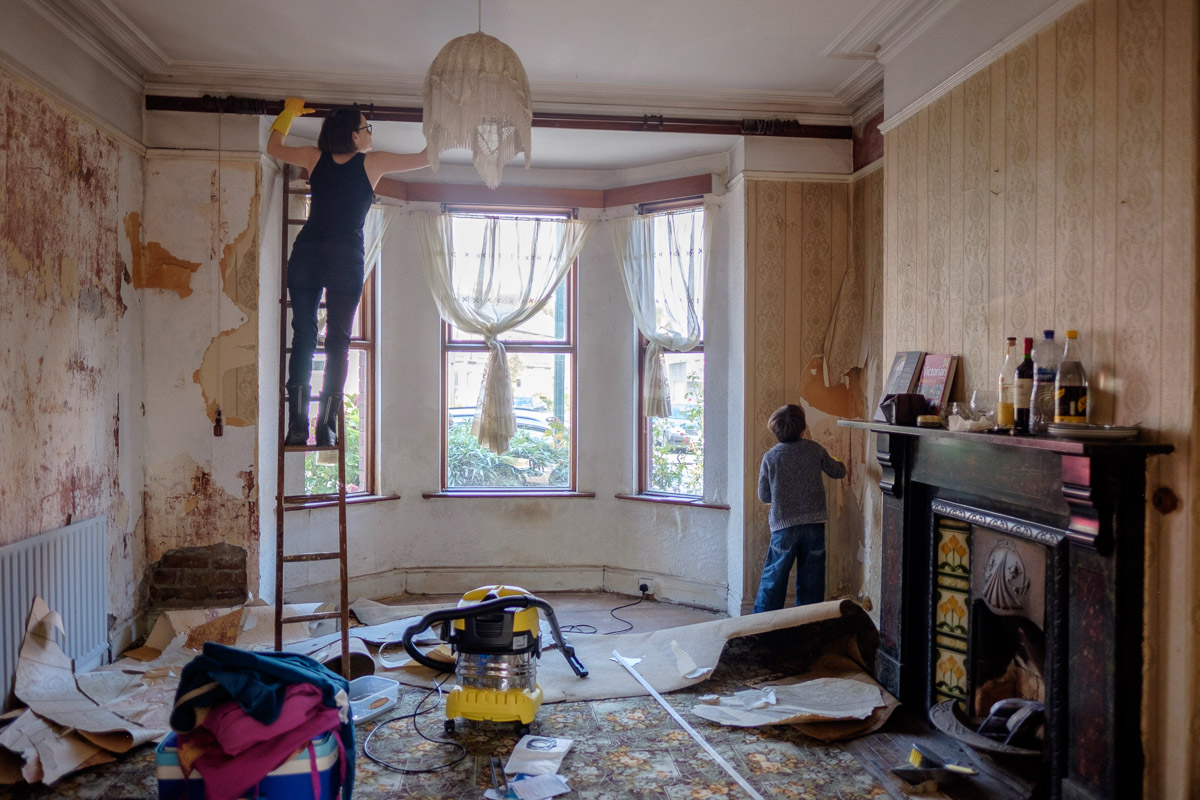 It took all of Saturday to strip the front living room. It would have gone a little faster had we started off with a ladder and wallpaper scrapers – we only bought those about halfway through the day, after I'd had enough of balancing precariously on the original old wooden attic ladder that we maneovered down the stairs so I could get the musty, green curtains down from the bay window in the living room. The wallpaper is so damp it mostly peeled off in long, satisfying strips, some from floor to ceiling. But the polystyrene layer was hard work until we got the wallpaper scrapers – then it was just about having the elbow grease to scrape everything off. The new ladder was also a huge help – I found stripping and scraping much easier once I was stable. The six year old really enjoyed getting up to the top rung and removing the high up wallpaper. He was a super help – which was a bit of a surprise, as I expected both kids to be pains throughout any work we'll try on our own.
By the end of Saturday, we had:
taken down the musty old curtains to let some light into the room
cleaned the curtain rail and hoops (another of those jobs you don't think of that takes an hour, even when done slapdash)
hung a pair of spare curtains as a stopgap
stripped all the wallpaper and polystyrene to let the walls breathe
bagged up the old wallpaper and plaster
learned how to fix the Karcher vacuum which had got all bunged up with dust.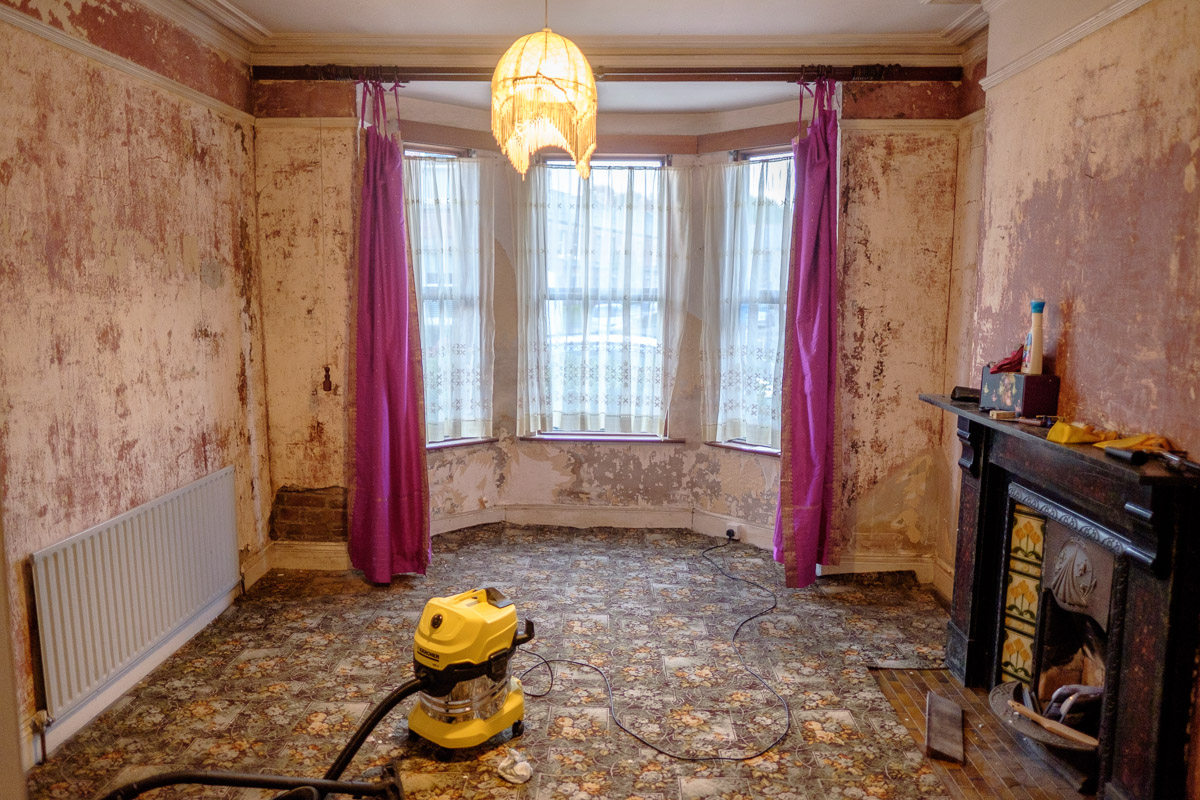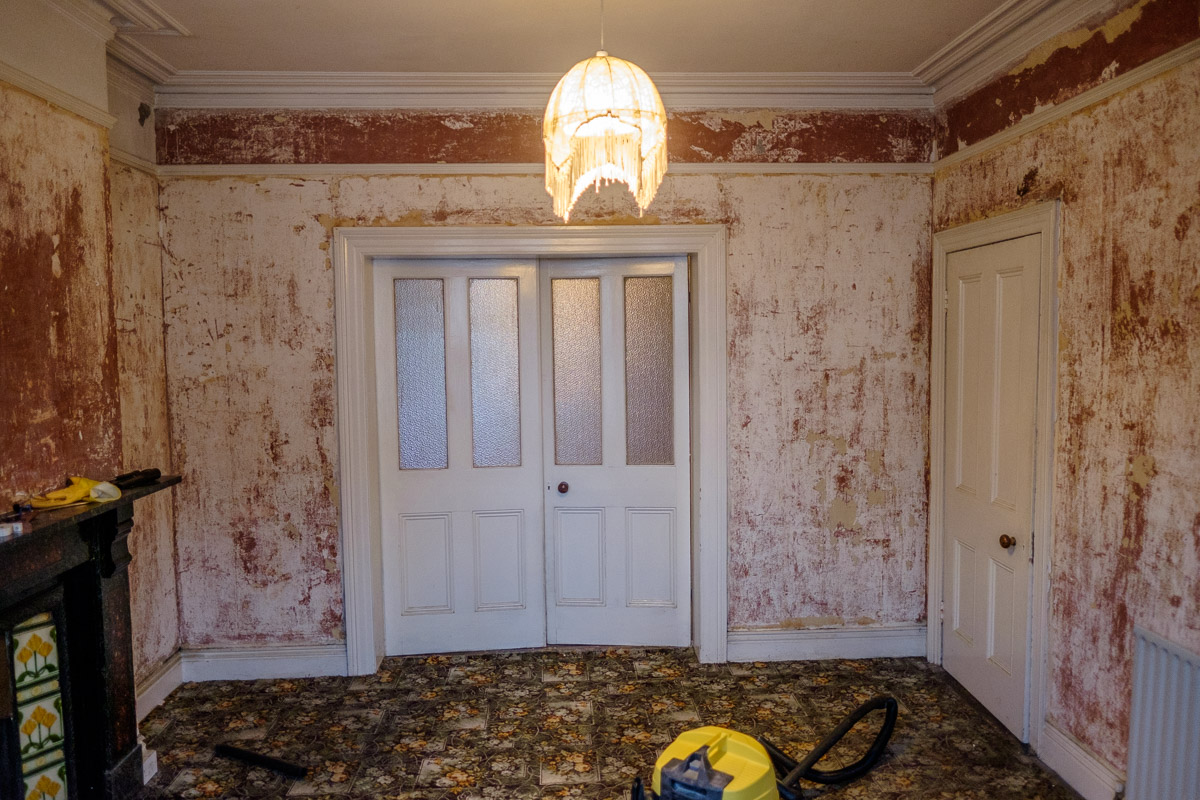 I realised how tired out I was at 4pm but I wanted to finish the wallpaper, and so I pressed on. I finally stopped at 5pm, utterly contented with the bare walls (even if some of them are crumbling off). But stopping so late was a MASSIVE mistake. I didn't realise was that the clean up would take an hour. Mehdi and I had to manage two 2 hungry, cranky kids while somehow magicking up the energy to bag up all the rubbish, wipe surfaces, vacuum the carpet, roll up the old lino and store for dumping.
We left the house at 6pm and drove to get food in a supermarket. We parked in the underground car park and dragged the kids out to get to the lift to the shop. It was broken. I almost had a nervous breakdown at this point. We couldn't find any stairs to the shop, and I refused to walk up through the car park ramps to get to the shop, as I HATE underground car parks and was too tired to control my panic or the two year old. So I made everyone get back in the car, tired, hungry and foodless. As we were driving off I noticed that the lift had started working again. So we parked again, dragged the kids out, and got into the lift to the shop.
The supermarket was like the setting for some kind of horror movie. Halloween decorations and exhausted shoppers and a crazed two year old all combined added up to a hellish experience. he six year old was so hungry he looked like he might eat a wooden pallet. And I felt like I was flaking dust and paper with every step I took. I was too tired to find a basket or trolley. I found a bag of spuds and clutched to my chest. The six year old grabbed a bag of chocolate-filled croissants. The toddler does not eat anything that is not chocolate or pasta or fish fingers, but he decided that he needed both a pumpkin and a watermelon. Luckily carrying them was beyond him. Eventually Mehdi found a wheely basket and we all began to drop random food items into what seemed like a bottomless pit. I saw steak and though I haven't eaten steak in years and years STEAK was what I wanted. Pommes noisettes were bought. Lasagne. Olives. Apple strudel. Cheesy croissants. I found myself saying through gritted teeth 'I swear to God if you don't...' and 'I mean it...' more in this half hour than I may have said in my whole life. I disowned my toddler when he started to play his 'throwing my horsey at strangers' game. When we all finally made it to the check out (without buying the nappies we'd run out of earlier in the day) I managed to not strangle the stranger who dumped their shopping on the conveyor belt before we had finished unloading our basket onto it, forcing me to load the conveyor belt while constantly pushing their shopping backwards to get the space we needed. But it was a close thing.
We got home. I bathed and showered. We ate. Nappies were bought. Things improved. Then sleep happened.
The next morning, we promised ourselves that Sunday would be a day of rest – that we would do some small things, but that today would be a day of thinking and planning. That's what we said.