Day 13 - kitchen clearance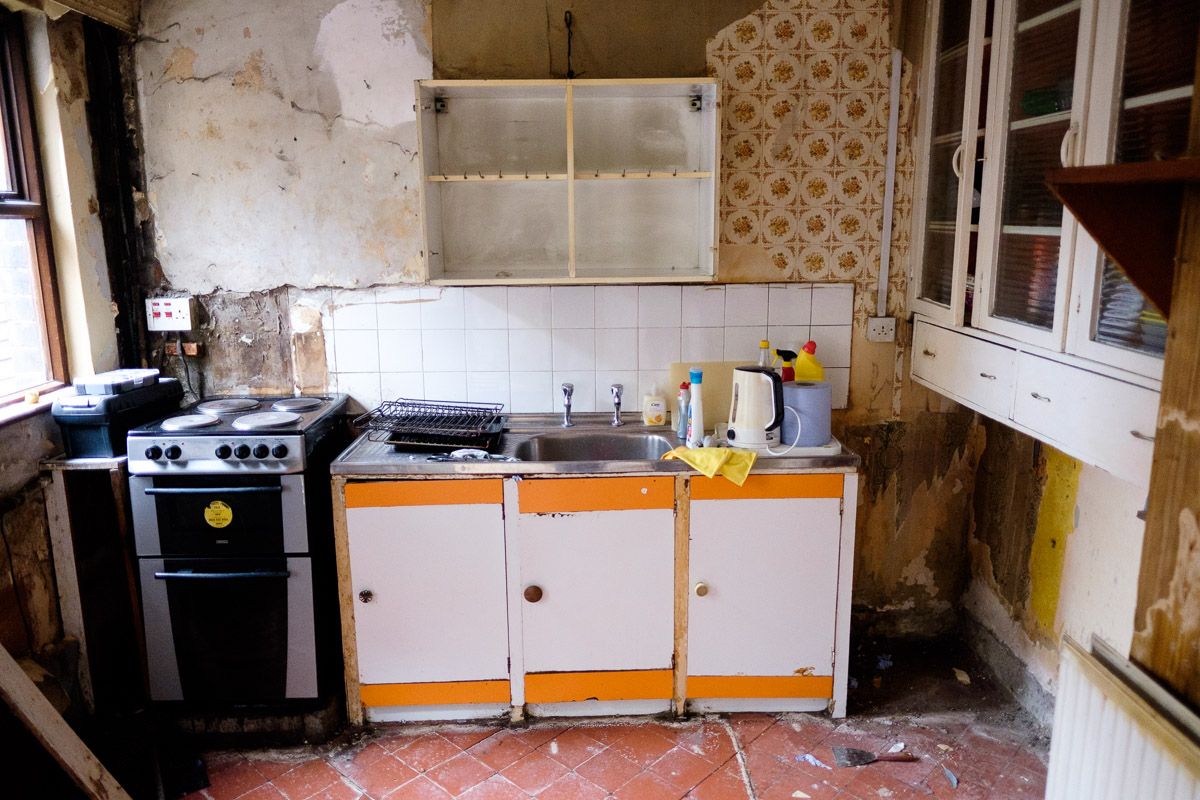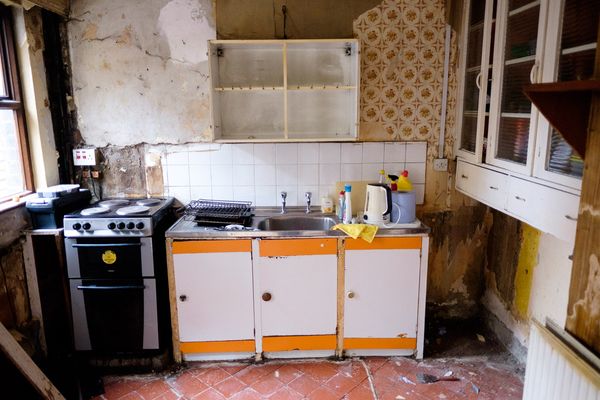 I well know we could hire two guys with a skip, and this house would be emptied of carpets and lino and cupboards and rubbish in a day. But there is something satisfying about excavating the layers of insulation and decoration that the previous owners chose for the house. I'm learning that the gorgeous wooden floorboards are cold - the deeper the layers of carpet and lino, the colder the room is.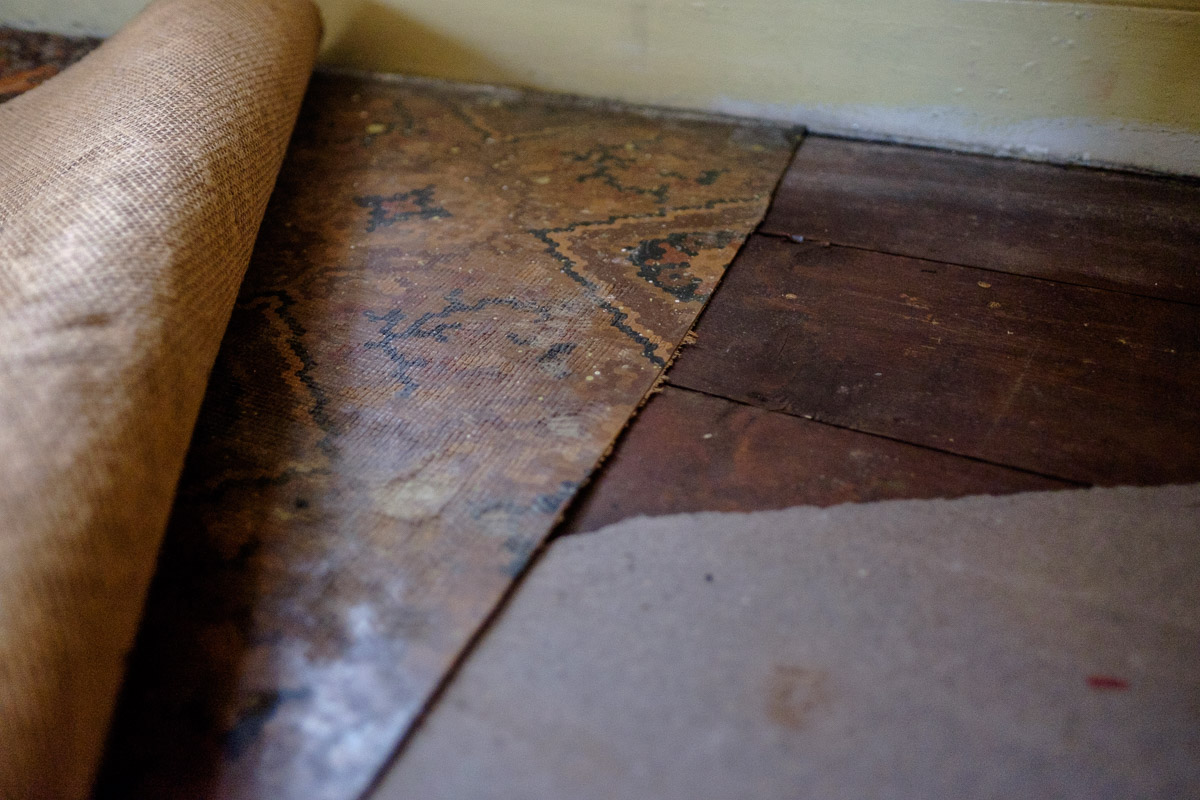 I love a good warm carpet myself as much as I love beautifully finished floorboards, but whatever we choose in terms of finish for our floors, we'll have to insulate the cavity underneath each floor so that we improve the warmth retention of the house.
Today we focussed on trying to get the kitchen cleared out some more. In case you've got this far and haven't realised we're not professionals, let me point out that we are not professionals. This means that when we do anything, we're giving things our best shot, but can end up completely blocked by our lack of knowledge. An example: when I first pulled a piece of rotting, damp wallpaper off a kitchen wall and half the wall crumbled away behind, and slugs and bugs slithered and skittered off in all directions, I stood there wondering how could I tell if the plaster was salvageable or not?
I was terrified of destroying some reparable Irish plaster, a part of the nation's heritage.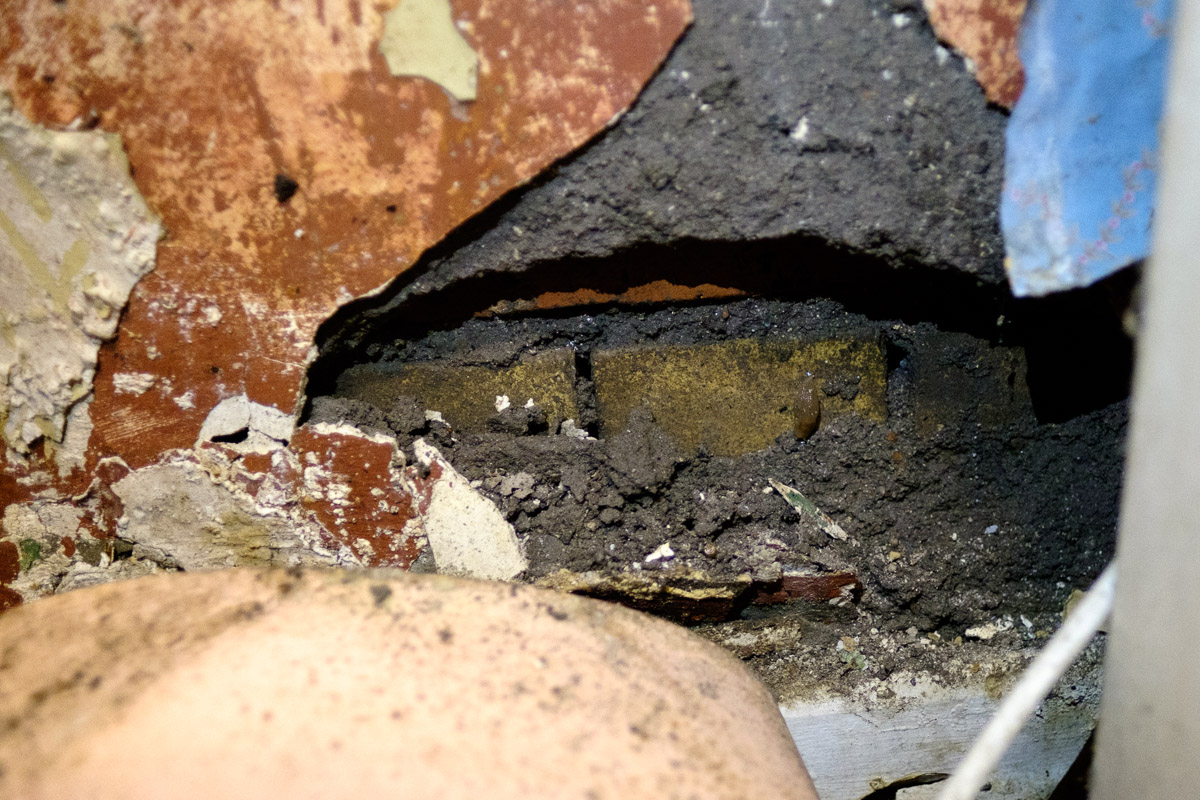 So I gently did what I could. Then Joseph Little's (now in retrospect pretty bloody obvious) advice that if the plaster is crumbling off then it's beyond repair, and we need to knock off anything that doesn't fall off with the wallpaper, let the walls dry, and then replaster. One of the first laugh out loud moments Mehdi and I have had was when we ended up laughing ourselves silly thinking about our innocence regarding the salvation of plaster (top plastering tip - if it's on the floor, it's probably beyond repair).
Now we're real experts: the question today in the kitchen wasn't 'ooooo can we save this' but more 'hmmmm what might happen if we knock off the plaster around the gas boiler? What exactly holds it up?'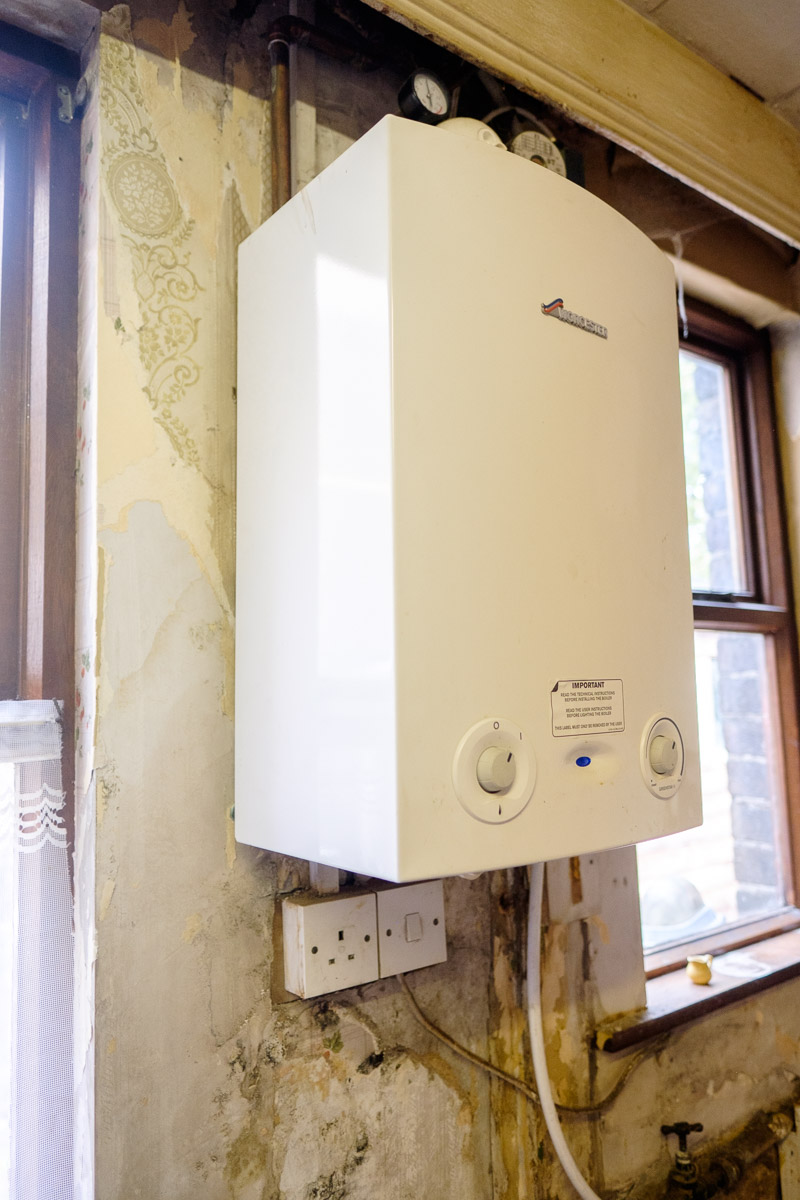 This, and our lack of plumbing knowledge, meant we could only tackle a bit of wall and clearing out the old cupboards. Mehdi moved the cooker we've been considering keeping. But I've cleaned that thing four times and I can't really see much of a difference - so I'm calling the cooker charity to come take it away.
On the other side, we really like the beautifully built in old presses on the left of the kitchen - under layers and layers of paint you can see some beautiful woodwork.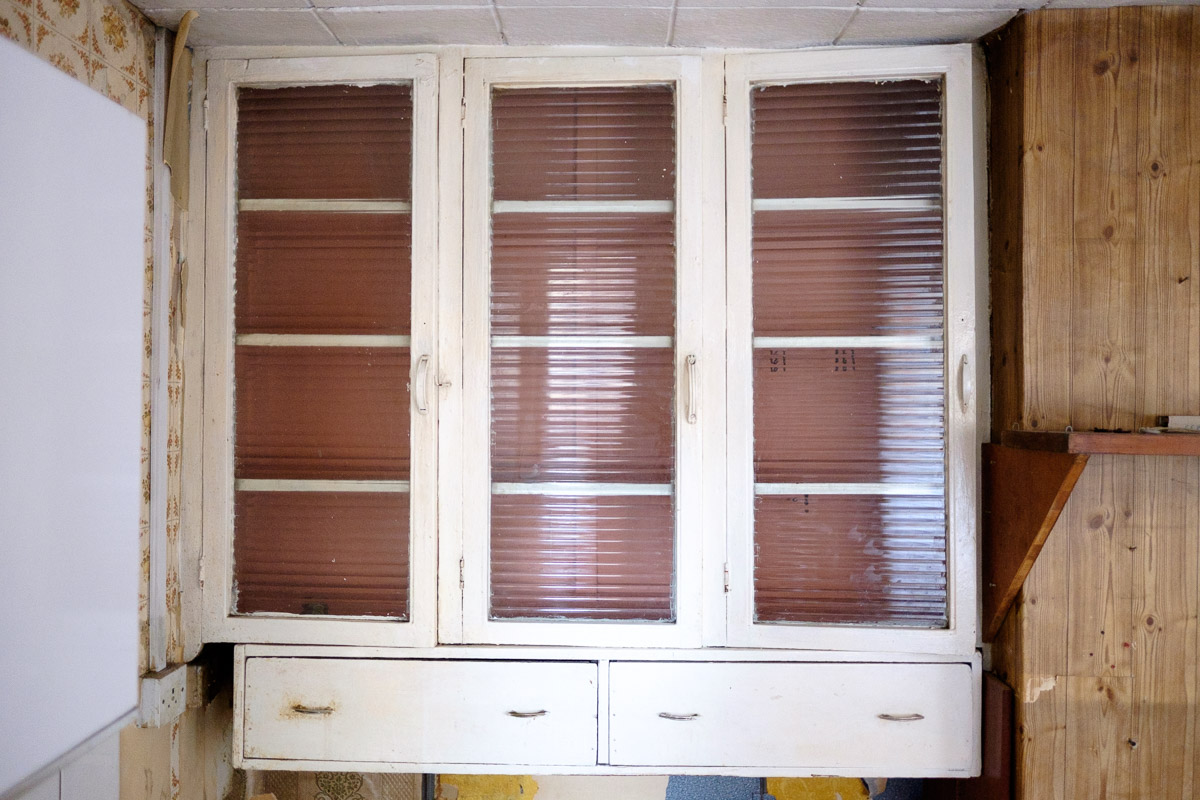 We're not so keen on the plywood drawers that have been nailed underneath these lovely old cupboards, but as we can't tell exactly what's holding what up (the drawers are nailed to the press but everything looks like it rests on a random old cupboard door nailed to the chimney breast) so until we figure all that out, they have to stay.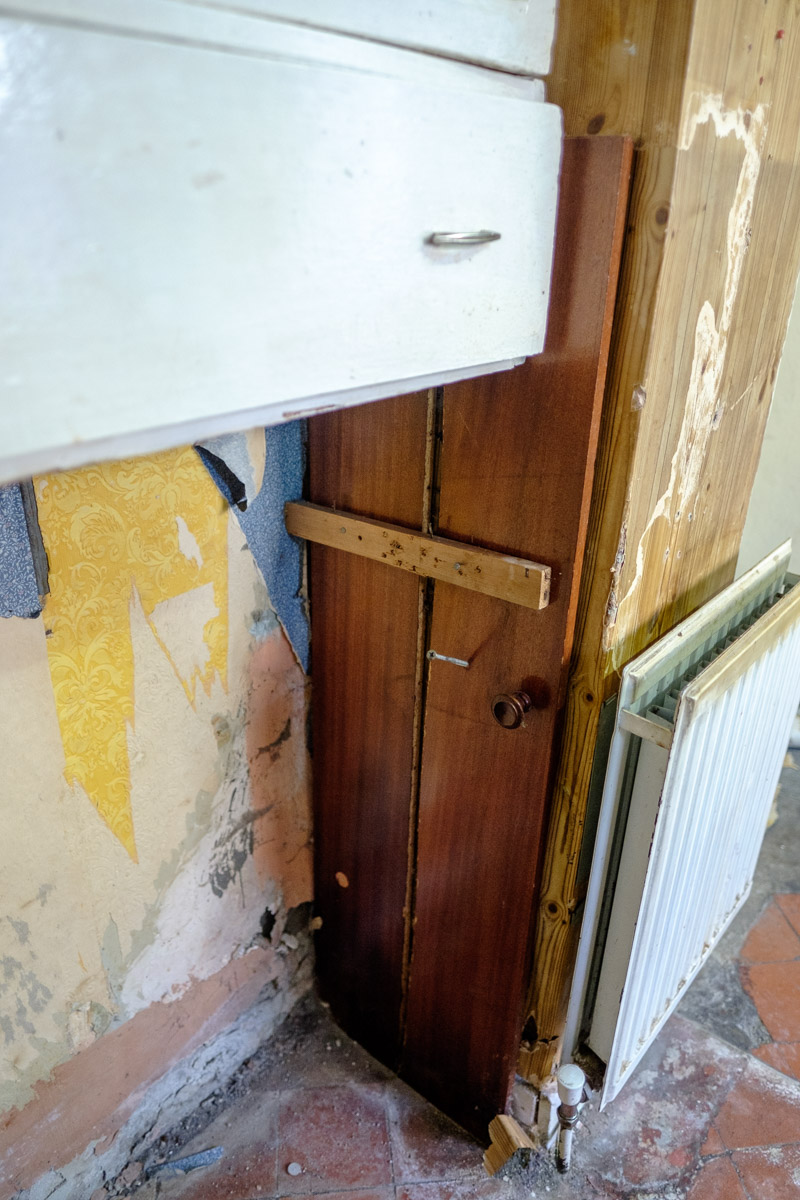 We need to rip off the ceiling tiles to see what can of horror hangs over our heads. And we need get a plumber to disconnect the sink (and I KNOW that's a job I could do myself if only I had a bit more time on my hands). Once we've all that done and taken away we'll be left with bare brick. Then we'll find out if that will dry out (we've no idea where the damp in the kitchen is comign from - apart form a rather obvious problem with a drainpipe outside). If it all dries, we can plaster. Oh yeah. The floor. Nice old red tiles that we've been told to rip up so we can tackle the 'damp'. But we're leaving things as they are for now until we figure out where exactly the damp is coming from...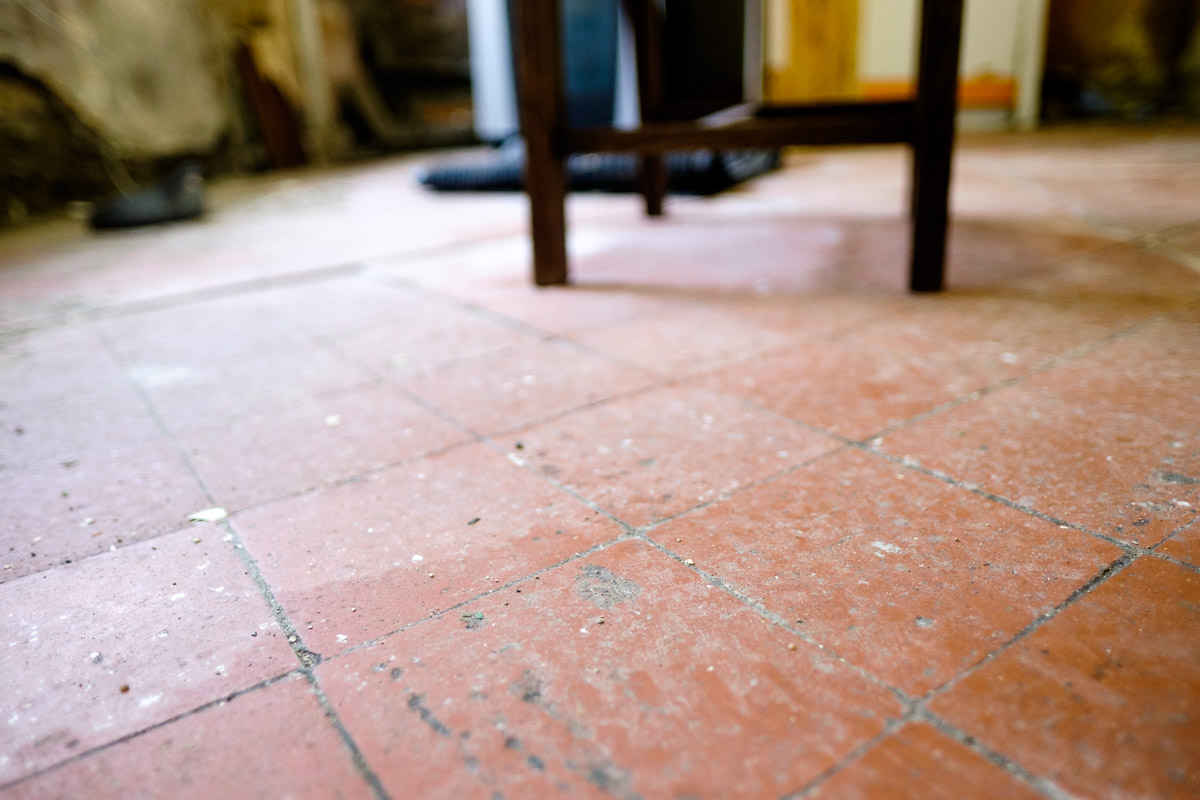 After we had done what we felt comfortable with in the kitchen, we turned our attention to organising the back reception room to make it a sort of living/snack space for when we are in the house. Mehdi had brought up a few things from Tyrone that were useful (and some that were less useful e.g. his huge speaker system... [Note from Mehdi: it's really not that huge]).
Among the useful items was Rónán's old cot, which we'd bought second hand from gumtree in London. It converts into a day bed, so we're using that as some cosy kid seating. I realised assembling the cot that we've put this together in 6 different houses in the 6 years we've had it. This house will be the sixth house our 6 year old will have lived in. And the 2 year old will have lived in 3 houses by the time we move in here. I know some people think we're mad to consider moving into a house that so clearly needs a lot of work to be comfortably liveable, but we're tired of expense and instability of renting. We want this to be our last move for a long time.